Resources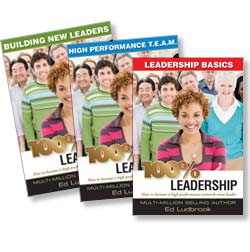 100% Leadership
How to become a high performance network team leader
This is a complete Leadership Programme for Network Team Leaders. It provides all of the knowledge required to become a competent and inter-dependent team leader.
You now have ten hours of knowledge covering everything from developing the right leadership qualities through motivation, coaching, recognition, events, training, to developing new leaders and even how to deal with an ineffective upline!
The 12 CD programme is split into three sections:
Leadership Basics covering the 100% Network, the 100% Leadership approach, Personal Leadership and Individual Leadership.
TEAM Leadership covering all of the inter-dependent areas such as training, events and communications
Developing New Leaders covering finding leaders, momentum leadership, long distance leadership and a whole section on questions such as uplines, competition and measuring performance.
AND this is so much more than a CD programme! To ensure you always have the latest knowledge and truly understand what every part means, you will receive:
12 x CD programme

Free Updates the CD FOREVER

Exclusive Monthly e-Journal solely for programme owners

FREE Exclusive Conference Calls and webinars
The 'Team Leader' is the 2nd level of Leadership in Direct Sales/Network Marketing and all key knowledge must be detailed or duplication is impossible. This programme contains that knowledge so it is the key to success.
Price – A$299/US$299/£149/€199

If you have purchased the 100% Leadership programme and are not receiving the Exclusive Team Leader Journal by email, please update us on teamleader@100percentleadership.com

---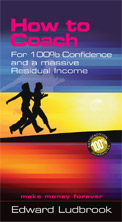 How to Coach 4 x CD programme - For 100% Confidence and a massive residual income
Make money forever
Coaching is most important and least understood skill in Network Marketing. These CD's will explain exactly how to coach someone.
The coaching explained is based on the 'learn skills first' 100% Success method of networking where all other coaching programmes are based on Recruiting Game. This means they are targeted at helping your performance to sponsor more people RATHER than helping you help others learn and become more successful. See the difference? This way you help people learn skills, become competent, become confident and eventually become INDEPENDENT of you. This is how you create a RESIDUAL INCOME! Save lots of time, increase productivity, reduce failure rate dramatically and increase sponsoring.
CD1 How to deliver the Dream
Types of residual income, what do people really need to know and how to stop people quitting.
CD2 How to be a coach
From the fastest strategy to get rich to getting ready to coach
CD3 How to run a coaching session
Learn the process for 100% confidence
CD4 Becoming the complete coach
Coaching small groups, on the telephone, difficult people, long distance.
» Order the Coach CD Programme Now
---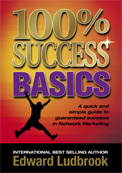 100% Success Basics - A quick and simple guide to guaranteed success in Network Marketing
There is only one way that you can guarantee success in Network Marketing; that's to operate a network system where everyone who joins focuses on learning skills first rather than focusing on performance. As everyone can learn the skills, everyone can succeed. One simple change in focus and suddenly you have created an opportunity based on 100% Success. It is had to believe that this small change is the most important innovation in Network Marketing in decades.
This book explains the Basics of the 100% Success Strategy. It covers the 12 Lessons including the TidalWave strategy that will guarantee Leadership Success and How to put the 100% Success into Action. With this knowledge you will have the CONFIDENCE to explode your results.
» Order 100% Success Basics Book now
---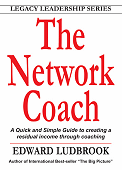 The Network Coach - the skill that creates momentum and residual incomes
Coaching is the highest paid yet least understood of the three key skills of Networking. Coaching is the skill that turns your new recruits into independent people. People who will build their network business without you thus creating residual income.
Everyone can learn how to coach. It will save you time. It will save you money. It will allow you to deal with strong people, difficult people, people over long distances. Coaching is the skill that turns time into money. It will give you confidence to sponsor anyone into your team.
The Network Coach is a basic how-to manual. It will teach you what to do and how to do it. The system will work with any programme in any country and has been proven over years to deliver the industry's highest results.