NutraBoom! - What is the future of the Health Products Industry?


• Powerful single CD format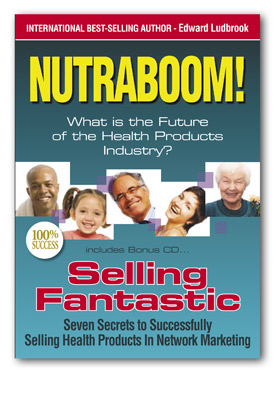 • Inspirational Keynote Speech

contact Edward



'An apple a day keeps the doctor away…'
Your mother

Your mother always knew best. What we have learnt recently is 'WHY' she was right - the anti-oxidants, fibre, enzymes and other powerful health bioactives contained in apples.

The new health product industry has boomed from the humble Vitamin C tablet to a US$75bil global phenomenon. Products are sold everywhere from supermarkets to medical clinics to TVShops.

This industry is predicted to double in sales again to US$150bn creating an enormous financial opportunity for the successful companies. The challenge is the new boom in functional foods is driving rapid change creating opportunities for some and nightmares for others.

So what is the future for Network Marketing/MLM in the new boom? Will it be NutraBoom or NutraBust? Is this the industry to be involved with today?
In this inspirational and sometimes humorous live recording, Edward explains the facts for you to decide.

Bonus CD
Selling Fantastic – the Seven Secrets to Successfully Selling Health Products in Network Marketing.
There are Seven key principles that every Networker needs to know to successfully sell health products through Network Marketing. Learn the seven principles and you will be able to build a large customer base of customers who will buy and buy again providing a solid base to all network incomes.

About Edward

The 100% Success Coach Edward Ludbrook is a world authority on the marketing of health products, especially through Network Marketing/MLM. He speaks on health product marketing around the world.



He has been a Director of health product companies selling in more than 30 countries. Three companies are public companies and some have won multiple export awards. He expertise was recognised when he become the keynote speaker at the first NZTE workshop for exporters of Natural Products Group.