---

Events
The follow are the Flyers for Edward's coming events


Click here
---

Books and CDs
The key products are explained below. Order them from Edward's

agent network

. Not all products are available in all languages.


ShakeOut! - The Big Picture why Network Marketing is booming AGAIN
Global Best-seller. 1 million copies sold in 20 languages.
Everyone in Network Marketing must believe they are in the 'Right Place at the Right Time' or they will always have weak motivation. They will never feel confident talking to people about joining this business. Over 10 years ago, Edward first 'Big Picture' book became a global phenomenon used everywhere to educate the Networkers, their prospects and family why this business is a great choice. His new Shakeout! Book simply explains the facts why Network Marketing has entered the new Shakeout growth stage of its lifecycle and why now is a perfect time to join.
» ORDER the ShakeOut! book


ShakeOut CD
This is a 20 minutes summary of the Shakeout vision of the future of Network Marketing. Use this CD to build your knowledge and confidence. The CD makes a very effective sponsoring tool.
» ORDER the ShakeOut! CD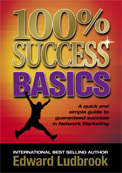 100% Success Basics - A quick and simple guide to guaranteed success in Network Marketing
There is only one way that you can guarantee success in Network Marketing; that's to operate a network system where everyone who joins focuses on learning skills first rather than focusing on performance. As everyone can learn the skills, everyone can succeed. One simple change in focus and suddenly you have created an opportunity based on 100% Success. It is had to believe that this small change in the most important innovation in Network Marketing in decades.
This book explains the Basics of the 100% Success Strategy. It covers the 12 Lessons including the TidalWave strategy that will guarantee Leadership Success and How to put the 100% Success into Action. With this knowledge you will have the CONFIDENCE to explode your results.
» Order 100% Success Basics Book now
The Network Coach - the skill that creates momentum and residual incomes
Coaching is the highest paid yet least understood of the three key skills of Networking. Coaching is the skill that turns your new recruits into independent people. People who will build their network business without you thus creating residual income.


Everyone can learn how to coach. It will save you time. It will save you money. It will allow you to deal with strong people, difficult people, people over a long distances. Coaching is the skill that turns time into money. It will give you confidence to sponsor anyone into your team.


The Network Coach is a basic how-to manual. It will teach you what to do and how to do it. The system will work with any programme in any country and has been proven over years to deliver the industries highest results.
» ORDER The Network Coach
NutraBoom!
The health products industry has boomed and is predicted to double in sales again to US$150bn creating an enormous financial opportunity for the successful companies. The challenge is that the new boom in functional foods is driving rapid change and creating opportunities for some companies and nightmares for others. So what is the future of the Network Marketing/MLM in the new boom? In this live recording, Edward explains the facts and how to position products to sell to everyone.

Also includes a Bonus CD called Selling Fantastic Ė the Seven Secrets to Successfully Selling Health Products in Network Marketing. This one CD is worth 10 times the value of the two CDís. it is what Edward has advised his corporate clients for years. $10,000 of advice for FREE.
» Order NUTRABOOM
How to have a FANTASTIC YEAR in Network Marketing - 4 x CD programme
Make more money faster
All it takes is ONE FANTASTIC YEAR of growth in your network and you will build a residual income for a lifetime. One fantastic year of effort to build the income to achieve your dreams.


A fantastic year is possible for everyone IF build your business with the right foundations. This CD programme explains the fundamental theory and key success strategies that every new person must learn to be successful. This knowledge provides the FOUNDATIONS to your success in this business. A lack of this knowledge is why 90% of people fail. This programme is based on the UNIQUE experience of the only person who actually works within networks as a specialist Network Development consultant and coach across the world; developing the training systems, training the networks, coaching the leaders and company executives. Edward has finally revealed his secrets!


Listening to the programme will be like personal coaching sessions by the world's Network Leader coach. Four CDs filled with unique basic information that will guarantee your success. This programme is for NEW people to Network Marketing.


CD1 How to make money FOREVER
• The theory of building an income opportunity and why most people get it wrong
• How to build endless customer volume
• How to get everyone to buy your product

CD2 How to GET RICH quickly
• The fastest strategy for anyone to get rich
• How to explain how a network is developed
• How to create the Momentum that will make you a leader

CD3 How to MOTIVATE anyone
• Why people are not really motivated and how to work out why
• How to turn negative into positive motivation
• How to be so motivated nothing will stop you

CD4 The Ultimate RECRUITING Tool
• >You will triple your ability to recruit people...


» ORDER How to have a FANTASTIC YEAR in Network Marketing 4 x CD programme
How to Coach 4 x CD programme - For 100% Confidence and a massive residual income
Make money forever
Coaching is most important and least understood skill in Network Marketing. These CDís will explain exactly how to coach someone.

The coaching explained is based on the Ďlearn skills firstí 100% Success method of networking where all other coaching programmes are based on Numbers Game. This is they are targeted at helping your performance to sponsor more people RATHER than helping you help others learn and become more successful. See the difference? This way you help people learn skills, become competent, become confident and eventually become INDEPENDENT of you. This is how you create a RESIDUAL INCOME! Save lots of time, increase productivity, reduce failure rate dramatically and increase sponsoring.
CD1 How to deliver the Dream
Types of residual income, what do people really need to know and how to stop people quitting.
CD2 How to be a coach
From the fastest strategy to get rich to getting ready to coach
CD3 How to run a coaching session
Learn the process for 100% confidence
CD4 Becoming the complete coach
Coaching small groups, on the telephone, difficult people, long distance.
» Order the Coach CD Programme Now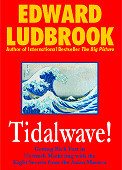 TidalWave!
Getting Rich Fast in Network Marketing
The only way you Get Rich in Network Marketing is by creating Momentum - the growth that will tap into the power of numbers [duplication] and explode your network. The growth that will make you a leader and earn leadership income! TidalWave! teaches you the best strategy to create Momentum. A strategy used by every network leader in the world. It is a strategy that everyone can and MUST learn to succeed. This is a simple inspirational book for every new person to the industry.
» ORDER TidalWave!
The Fundamentals of Network Marketing
International Best-seller
Explains the Fundamentals on how to build a network income that lasts. It is like a toolbox that you can use to ensure you are structuring your network correctly and people are doing the right things in the right manner.
» ORDER The Fundamentals of Network Marketing
---
Order Books and CDs
Edward's books are supplied by members of the SuperStar Alliance, the global support network for Network Marketing industry. To purchase go to his agents web sites or email them for details.